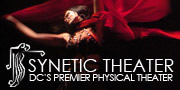 Links
Emails
No emails found.
Phones
main: (703) 824-8060

Addresses
work
4041 Campbell Avenue
Arlington, VA 22206
United States of America Map


Synetic Theater
Synetic Theater's mission is to be the premier American physical theater, fusing dynamic art forms–such as text, drama, movement, acrobatics, dance and music, by producing world-class physical theater for all ages, educating the next generation of artists and physical theater professionals, and promoting this distinct form of theater nationally and internationally through community outreach and touring programs.
Synetic Theater offers a variety of programs, including Main Stage performances in Crystal City, Arlington VA and at the Lansburgh Theatre in Washington, DC. Synetic's productions have a visual and auditory power that few theaters can match, and performances are simultaneously avant-garde and accessible for audiences. These intense productions are typically 90-110 minute adaptations from classical literature and drama using Synetic's dynamic, movement-based performance style and intensively trained ensemble of actors.
Award-winning Synetic Family Theater also brings the best physical theater traditions to young audiences of the Metropolitan Washington area. The recipient of the 2010 Helen Hayes Award for Outstanding Theatre for Young Audiences, Synetic Family Theater presents magical productions for children that feature impressive movement, beautiful visuals, and stylized acting.
Discounts:
We offer senior (65+), military, student and under 25 discounts (ID required).
For groups of 10 and more we offer additional discounts. Patrons should contact Tricia Homer Marketing Associate, to arrange for a group reservation at groupsales@synetictheater.org or at 703-824-8060.
Group discounts are not available at the door -advance sales only.
Gift Certificates:
To redeem a gift certificate please call the office at 703-824-8060 or email to Synetic@synetictheater.org to make a reservation.
Pay-what-you-can preview:
Payment is by cash or check only and no advance reservations are offered. Patrons pay at the door, starting 15-20 minutes before the show time. Tickets are assigned seats-for best selection arrive at least 30 minutes before show time. Suggested minimum donation is $10.
Press tickets:
Members of the press should call 703-824-8060 or email to press@synetictheater.org to make their reservation.
Ticket exchange policy:
Synetic Theater allows ticket exchanges, subject to availability, within a performance run for an additional $5 fee.
Birthday Parties at Synetic Family Theater:
Please call the office at 703-824-8060 or email Synetic@synetictheater.org for more information and to make a birthday party package reservation.
Venue addresses:
Synetic Theater in Crystal City, 1800 South Bell Street, Arlington, VA 22202 (one block away from the Crystal City Metro station, which is serviced by both the Blue and Yellow Metro lines)
Synetic Theater at the Lansburgh, 450 7th Street NW, Washington, DC 20004-2207 (Metro: Archives-Navy Memorial-Penn Quarter (Green/Yellow Lines) or Gallery Place (Red/Green/Yellow Lines)
Synetic Family Theater, 4041 Campbell Avenue, Arlington, VA 22206 (Village of Shirlington, accessible by bus from Pentagon Metro)
Current Events
No current events.