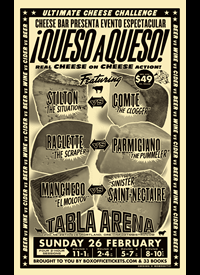 Ultimate Cheese Challenge
What beverage pairs best with cheese?  We will find out February 26th at the Ultimate Cheese Challenge.
 
This amazing event combining Tabla and Cheese Bar will showcase 36 of Steve Jones' best cheeses paired with wine, cider and beer.  You can decide which is the best pairing.  Come taste wines from Matello Wine and Teutonic Wine Company, beer from The Commons Brewery and Gigantic Brewing and cider from Bushwhacker Cider and Wandering Aengus Ciderworks.
 
In addition to amazing cheese and beverages, Fino in Fondo Charcuterie from McMinnville will be offering samples of their salumi.
 
There will be live music throughout the day, provided by "Stuart Wylen & Jill McArthur" and "The Gentle Surprise and Dave".
 
Each guest will receive Portland's 33 Books Co.'s "33 Cheeses" to record their tasting notes.
 
There are 4 2-hour sessions on February 26th.  Cost is $49. Place is Tabla Mediterranean Bistro at 200 NE 28th Avenue.
 
Thanks to our major sponsor, boxofficetickets.com and our book sponsor, 33 Books.