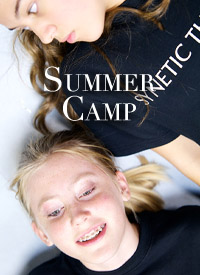 Synetic Summer Camp: Rock the Vote!
Let the Chaos Caucus Begin…
It's election year inside the toybox in this hilarious new rock musical at Synetic Summer Camp. Join us for this fun toy story where the toys from the toybox are having their elections. Will the Lion remain king of the toybox or will the teddy bear take the lead? The elections are rife with strife as the electoral college start speechifying, the spiders are all up-in-arms and the puppets are occupying sesame street. Join us to find out who will win as we race towards election day!
Why Rock the Vote with this summer?
We are dedicated to sharing our love of the theatrical and visual arts with a younger generation. We set out to inspire quality performance and artwork in our students and their audience. In only two weeks we split our time between drama, dance and art to create a fully-staged, high energy, musical production.
All the president's men…
Synetic Theater is dedicated to hiring the best teaching artists in the DC area to bring a quality arts education to your child this summer. Here are some familiar faced you may see at your camp:
Art Directors: Amy Kaplan and Debbie Pawlick
Drama Directors: Lilia Slavova, Elena Velasco and Ryan Sellers
Session 1: June 18-29
Session 2: July 2-13
Session 3: July 16-27
Session 4: July 30-August 10
Session 5: August 13-24
And now introducing, for one week only:
Session 6: August 27-31
Great for new and repeat 2012 campers!