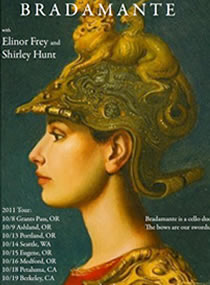 Bradamante Cello Duo
Bradamante, legendary female knight of the great Italian epic poem Orlando Furioso, is the dazzling new duo collaboration between cellists Shirley Hunt and Elinor Frey. With Bradamante as their inspiration, Shirley and Elinor celebrate the passions of the first famous composer-cellists, performing works by Gabrielli, Bononcini, Barriere and more. Busy throughout North America and Europe as soloists and collaborators, the members of Bradamante have performed and recorded with Agave Baroque, Philharmonia Baroque, Portland Baroque, Ensemble Caprice, Ensemble Masques, Proemio, and on the Yarlung, Analeckta, and NCA labels.
$15 for adults and $10 for senior/students.
Run Time
1 hour 30 minutes with 1 intermission