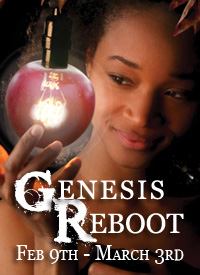 Genesis Reboot
Helen Hayes Awards recommended©!
"Genesis Reboot" is a large step away from Synetic's famed silent Shakespeare, but in terms of its imagination, humor and rigorous control, it should be considered a different kind of Synetic classic."
Washington Examiner

"Eve is played by the winsome Brynn Tucker, whose energy and charisma pervade every scene she's in..."
The City Paper

"Daniel Pinha's strikingly-designed Eden set, which features a gunmetal-gray Tree of Knowledge at its center, puts a perfectly chilling retro-futurist spin on the familiar biblical imagery."
DC Theatre Scene

Don't miss this farcical new play directed by the long-standing Synetic Company Member Ben Cunis. Discover what would happen if the story of Adam and Eve were redone ... in a Synetic way!