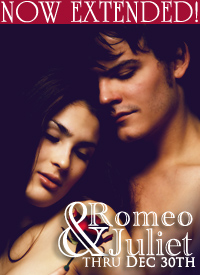 ROMEO AND JULIET




"If you've never experienced the hyper-theatrical dance moves and dramatics of the astonishing Synetic Theater, may I suggest that now would be a very good time to start?" – The Washington Post

Shakespeare's classic story of star-crossed lovers is one of Synetic's landmark productions. And just in time for the holidays, the company will revist its passionate and lyrical production of Romeo and Juliet.

Love, passion and timelessness are all made stunningly physical in this rendition of Shakespeare's great romantic tragedy. Set within the gears of a giant clock, Synetic's adaptation explores the untimely nature of one of literature's greatest love stories. The gears of the clock become the world – the church, the balcony and the mausoleum all transform before the eyes. Using shadows, props, mime, dance, sinuous combat, and, most of all, passionate acting, Romeo and Juliet is a heart-stopping thrill to experience.

Nominated for six Helen Hayes Awards and the recipient of two, Romeo and Juliet stars Alex Mills and Natalie Berk as the famed "star-crossed lovers," Ryan Sellers as Tybalt, Philip Fletcher as Mercutio, Synetic founder Irina Tsikurishvili as the Nurse, Scott Brown as Paris, Peter Pereyra as Lord Capulet, veteran Synetic performer Salma Shaw as Lady Capulet, and Irakli Kavsadze as Friar Lawrence. The production also features Vato Tsikurishvili, Sarah Taurchini and Mary Werntz.