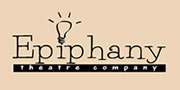 Links
Emails
No emails found.
Phones
information: (971) 238-4335

Addresses
billing
7349 SE Division St.
Portland, OR 97206
United States of America Map


Epiphany Theatre Company
Our mission is to engage, challenge and captivate our community by producing innovative adaptations of works of speculative and fantastical fiction - both obscure and well-known. In the process, we hope to encourage the creative spirit in playwrights, producers and directors by inspiring them to think outside the box.
We're a brand new company, but have decades of experience and all have the obsessive love of Theatre Arts. Allow us to entertain you!
Current Events
No current events.