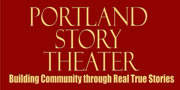 Nansen of the North
By Lawrence Howard
Directed by Lynne Duddy
 Festival Dates: Jan 20, 21, 27, 28 @ 8pm
Venue: Fremont Theater
2393 NE Fremont St.
Tickets: $15; $18 day of show; $5 Arts for All

Since 2008, Portland Story Theater's acclaimed Armchair Adventurer series has focused on the stories of series creator Lawrence Howard's Antarctic heroes: Shackleton, Mawson, Amundsen and Scott. This year, for the first time ever, we turn our attention northward to bring you Nansen of the North, the story of Fridtjof Nansen, the father of polar travel, the one who showed them all how it could be done. Nansen, the great Norwegian ski champion. Nansen, a pioneer in neurobiology. Nansen, who made the first-ever crossing of Greenland on skis. Nansen, who set a new record for the Farthest North. Statesman. Diplomat. Humanitarian. One of the founders of the League of Nations. The First UN High Commissioner for Refugees. Nobel Prize winner. Nansen, who famously said, "It is better to go skiing and to think about God than it is to go to church and think about skiing." Nansen of Norway. Nansen of the North. A captivating performer, Howard holds audiences spellbound and has been called "the Homer of Portland" and "the master of nonfiction on the stage."
-----
part of Fertile Ground, a city-wide festival of new works.